QUICK LINKS
Current Operators


Arriva
Central Connect
EFCT/ECT

Oxford Bus Co (NatEx)
Vectare

Former operators



First
Go-Ahead London
NIBS
EOS London
LCB Travel
Olympian/Roadrunner
Townlink
Regal
L
ondon Bus Co.
Uno
(Flickr)
Old news
2019 and 2020
2017 and 2018
2015 and 2016
2013 and 2014
2011 and 2012
2009 and 2010
2007 and 2008
2004 to 2006
2001 to 2003
LATEST NEWS
May 2022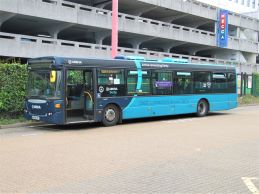 A completely unexpected arrival at Arriva is of 13-year old Scania Omnicity N230UB YR58SRY. It is former Arriva Derby, has been given fleet number 3556 and has been seen on Stanted routes. It has been received in exchange for Enviro200MMC 4086 (YX17NHD).

The revolving door of Solos at Central Connect continues. Latest intake is 20-year old M920 YG02FWL, previously of Marshalls of Sutton-on-Trent, whose livery it carries.

Vectare has sported new vehicles for the Chelmsford Park and Ride. These have fleet numbers and so are presumably the permament replacements for the hires. The routes therefore go from all-white to all-black. Also Enviro200MMCs, the registration numbers YX22OGS (fleet No. 307) to YX22OGV (fleet No. 310) almost follow on from the hires. Recently acquired former Weavaway Enviro200MMC, YX69NWB, has received a repaint to, essentially Arriva Max colours. A new entry into service is Optare Solo M920 KX55PFK. The very distinct Ipswich Buses livery is carried.
April 2022